Go back
What to expect in Fourth Grade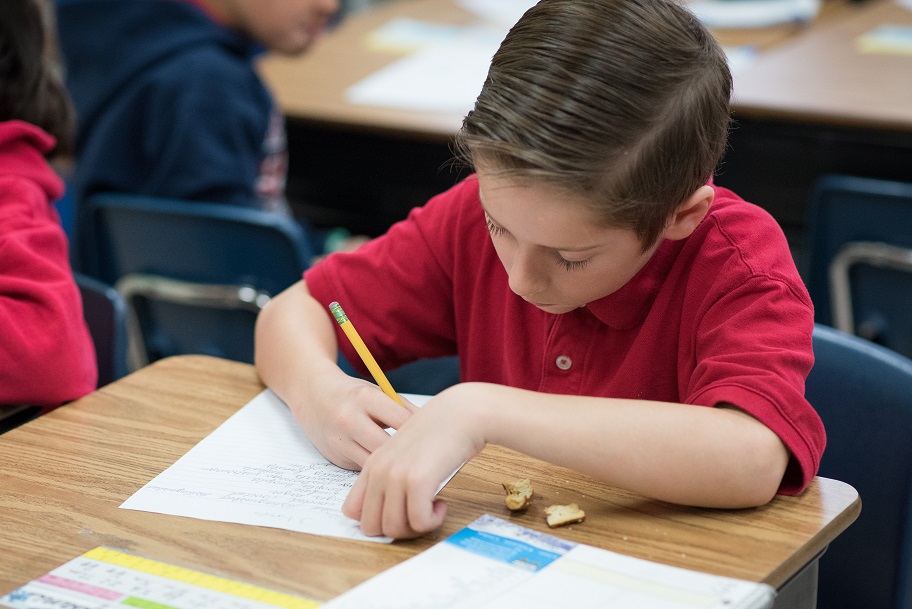 Fourth grade focuses on building a solid foundation in core curriculum of Reading/Language Arts, Math, Science and Social Studies; enhanced with Enrichment classes of Art, Chapel, Computer, Library, Music, Physical Education and Spanish. Fourth grade at SMS is a transition year, considered the first step to middle school, in which the bar is raised both academically and in character development. Students grow exponentially in the classroom setting in conjunction with academically oriented community field trips.
Saxon Math 65 curriculum is the foundation of mathematics in fourth grade. This curriculum is fifth grade equivalent which exposes students to higher level computations of new material with continual review of previous material. Saxon Math builds on double and triple digit multiplication and division; addition/subtraction and multiplication/division of fractions; along with standard and metric conversions. Reasoning skills are incorporated via word problems and supplemental material. Students test regularly reinforcing a sound mathematical foundation.
Students read novels in class, such as Shiloh, The Indian in the Cupboard, and A Wrinkle in Time. Independent reading is an essential part of the curriculum as well, and students select from different genres to create "book share" projects to present to their classmates throughout the school year. Supplemental reading from the McGraw-Hill reading textbook draws richly from a variety of genres, including biography, folktale, realistic fiction, historical fiction, and science nonfiction. Students employ a variety of reading skills such as summarizing and inferencing and study the elements of a short story because, we believe, proficient reading fosters prolific writing. Consequently, students will master efficient, polished sentence construction, while practicing elaboration skills, such as using specific details, vivid verbs, imagery, and figurative language.
Students will produce a variety of types of writing including personal narratives, expository and persuasive essays, journals, and descriptive writing.
Fourth grade Harcourt Social Studies curriculum coincides with Texas standards and includes our state's history and geography. Students also continue to build skills in reading, analyzing, and creating maps, graphs, tables, and timelines, as well as identifying primary and secondary sources.
Science units include studies of life cycles and ecosystems; matter, energy, and motion; and earth science including climate, weather, and the rock cycle. Students participate in experiments implementing the Scientific Method in both the classroom and science lab.

Go back
Elementary School
&

Middle School